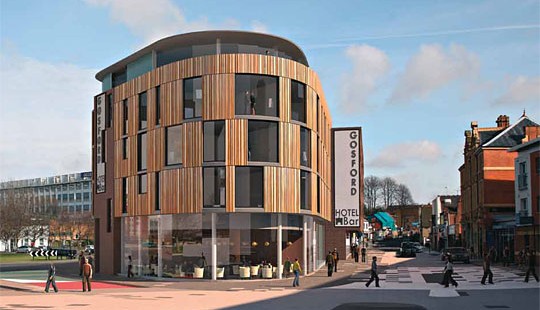 Gosford Gateway
With all the increased activity and nightlife that will envelop Far Gosford Street, it will become a destination not just for the day but, with everything else Coventry has to offer, for a weekend or more! To enable people to spend the night in this unique street a brand new independent 'boutique style' hotel is planned. With 125 bedrooms this will have the capacity to cater for visitors to Coventry in general, as well as those to the street and Fargo Village.
Building work will start by the end of 2013 and the hotel will be open for Christmas the following year. This will form the main gateway to Far Gosford Street from the centre of Coventry and Coventry University, and will be sited on the location of the historic gateway to the walled Medieval Coventry. The Gate was demolished in 1765 and this development will become a new landmark building with not only a stylish, affordable hotel, but also retail and leisure use on the ground floor, such as a restaurant, bars or café.
In homage to the historic Gosford Gate, one idea is to have the hotel clad in wood to represent this gateway, but whichever design is chosen it will be in keeping with the character of Far Gosford Street, will be visually stunning and provide a fantastic gateway into the street.