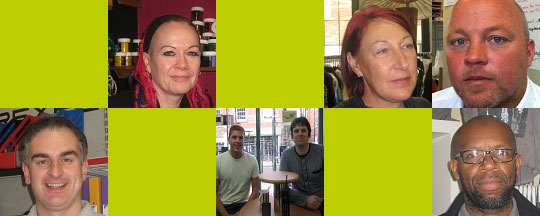 Real regeneration is not just about nice new buildings; it's about the people that use them and the involvement of the local community. When the plans for the street were first discussed, we collaborated closely with the people that will use them to generate new ideas and design inspiration.
Now that we have completed part of the regeneration we asked the traders of Far Gosford Street, both established and new to tell us what they think of the street and why they trade here.
Peter Bennett Stationers Ltd
129 Far Gosford Street

Nick Bennett manages this 2nd generation family business which has been trading in the street since February 1960 as a commercial and retail stationary supplier. Nick is very pleased to see the street starting to look like its "old self".
Marjoriedoo Vintage
Unit 1 Ground Floor
120 Far Gosford Street

Debbie Beeston set up her vintage clothing shop, specialising in clothes for men and women from the 1920's – 1980.   The shop opened in November 2011. Debbie chose to trade here as she recognised that the street was looking to become an "alternative" shopping destination.  Since the regeneration work started it has bought more people to the street even if they are only curious.
Wicced
40 Far Gosford Street

Wicced can be found in one of the oldest buildings in Far Gosford Street, which as part of the regeneration had a total restoration. Wicced caters for people with an alternative outlook on life, providing clothes, books, candles, incense and unique handcrafted products. Owner, Paula Hall welcomes everybody to pop in for a browse or a chat. The back room is also available to be rented out.
Windsors & Refreshed

Opened in November 2012, Windsors and Refreshed offers a vibrant new social enterprise comprising of a fair-trade coffee shop, a vinyl record store and retro/vintage fashion shop. Coventry University also be display fashions created by their fashion department students. Operated by Coventry Cyrenians, Stuart Ryan and his team will provide access to work and education for young, unemployed people. Everyone welcome.
Sky Phones Ltd
117 Far Gosford Street

Lorenzo Grasso has been operating his business on the street for 8 years. He thinks that the regeneration of the street has made it look more appealing and will attract more customers. He is hoping that an even more diverse range of shops will open in the near future to add more incentive for people to visit. Sky Phones offer mobile phone sales, repairs and unlocking. Specialising in Blackberry and iPhones.
Adam Emanuel Ltd
41 Far Gosford Street

Adam Emanuel menswear boutique is a fabulous new shopping experience with affordable clothing for fashion conscious gents. Owner Glen Dowdy opened his shop on the street only 4 months ago after being offered a great deal to trade in this historic restored building. Glen is keen to see a wider range of retailers move onto the street to offer an even better range of shopping.